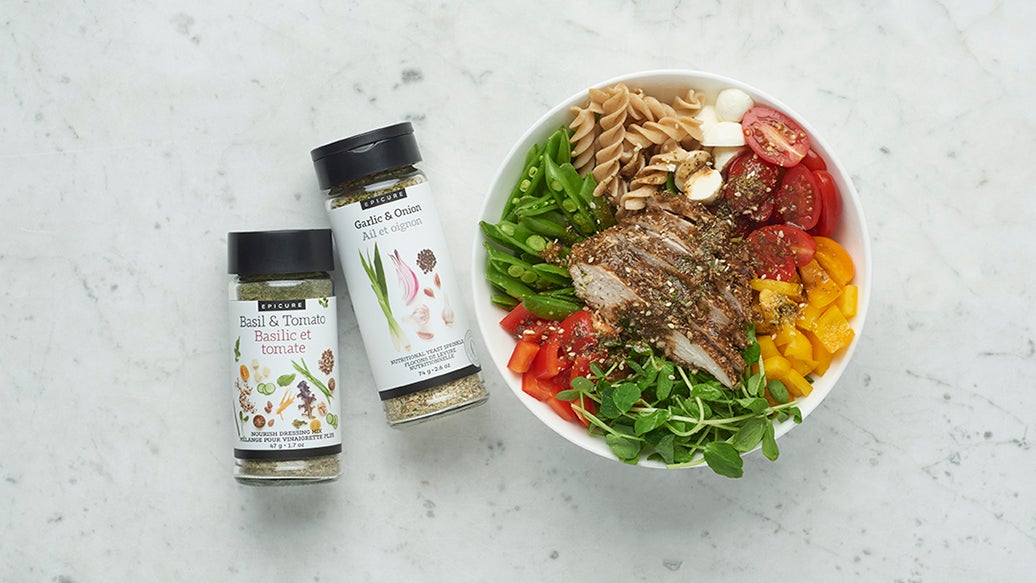 10 min
4 servings
$3.52/serving
An Italian-inspired, well-balanced comfort meal that you'll want to eat all week!
Ingredients
3 cups cooked pasta or quinoa
8 cups veggies, your choice, cooked or raw
1 cup mini bocconcini mozzarella
1 lb (450 g) Balsamic Chicken Fingers, sliced thin
3⁄4 cup Balsamic Vinaigrette
capers, optional
Preparation
Arrange first four ingredients in four serving bowls.
Drizzle with dressing.
Sprinkle with capers, if desired, and nutritional yeast sprinkle. Buon appetito!
Nutritional Information
Per serving: Calories 510, Fat 19 g (Saturated 5 g, Trans 0 g), Cholesterol 80 mg, Sodium 360 mg, Carbohydrate 45 g (Fiber 6 g, Sugars 6 g), Protein 40 g.
Tips
Make it vegetarian: Substitute chicken for 4 cups lentils or beans.
Add 1 tsp Nourish Broth Mix for each cup of water to layer complex flavour in your pasta, grains, and pulses.